Step back in time to the rugged days of the Old West by visiting some of the most iconic and well-preserved saloons that still stand today. These establishments witnessed legendary events and hosted famous characters in American history. From Wyatt Earp to Wild Bill Hickok, the saloons of the Old West were gathering places for both heroes and outlaws alike.
This comprehensive guide will take you on a journey through 17 of the most captivating Old West saloons you can still visit today. So grab your cowboy hat and saddle up for an unforgettable adventure.
1. The Bucket of Blood Saloon – Virginia City, Nevada
Originally established in 1876, the Bucket of Blood Saloon has earned its name due to the numerous fights and brawls that broke out within its walls. Boasting an impressive collection of period memorabilia, this establishment still retains its original wooden bar and vintage fixtures. This place offers live music and cold drinks, allowing you to relive the rough-and-tumble days of the Old West in style.
2. The Crystal Palace Saloon – Tombstone, Arizona
No trip to the Old West would be complete without a stop at the Crystal Palace Saloon in historic Tombstone, Arizona. Opened in 1879, it has been meticulously restored to its former glory, featuring a stunning mahogany bar and grand chandeliers. Frequented by the likes of Wyatt Earp and Doc Holliday, this locale played a significant role in the events leading up to the infamous Gunfight at the O.K. Corral.
3. The Occidental Saloon – Buffalo, Wyoming
Located in the charming town of Buffalo, Wyoming, the Occidental Saloon has been serving patrons since 1880. Its rich history includes visits by the legendary Calamity Jane and Butch Cassidy. Today, this place boasts an extensive collection of Old West artifacts and offers live music, making it a must-visit destination for any history buff.
4. The Silver Dollar Saloon – Leadville, Colorado
Nestled in the heart of the Rocky Mountains, the Silver Dollar Saloon in Leadville, Colorado, has been in operation since 1883. Frequented by the likes of Doc Holliday and Buffalo Bill, it is known for its ornate back bar, which was carved from a single piece of mahogany. This establishment continues to be a lively spot for drinks, dancing, and live entertainment.
5. The White Elephant Saloon – Fort Worth, Texas
Established in 1884, the White Elephant Saloon in Fort Worth, Texas, quickly became a favorite among the rowdy cowboys driving cattle up the Chisholm Trail. Known for its wild atmosphere, it was the site of numerous altercations, including the legendary shoot-out between Luke Short and Jim Courtright. Today, it is part of the Fort Worth Stockyards National Historic District, and hosts live music, poker games, and a wide selection of drinks.
6. The Irma Hotel and Saloon – Cody, Wyoming+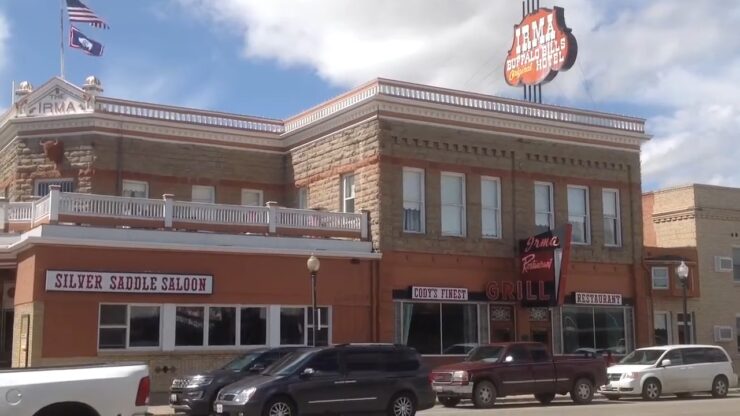 Built by Buffalo Bill himself in 1902, the Irma Hotel and Saloon in Cody, Wyoming, was named after his daughter. The centerpiece of the locale is a stunning cherry wood bar, which was gifted to Buffalo Bill by Queen Victoria of England. Visitors can enjoy live music, cold drinks, and an authentic Old West atmosphere at the Irma Hotel and Saloon.
7. The Palace Restaurant & Saloon – Prescott, Arizona
Founded in 1877, the Palace Restaurant & Saloon in Prescott, Arizona, has been beautifully restored and maintains its Old West charm. In its heyday, it was frequented by the likes of Wyatt Earp, Virgil Earp, and Doc Holliday. The Palace is renowned for its intricate, hand-carved bar and extensive collection of period artifacts. Today, you can enjoy fine dining, live music, and a taste of the Old West in this historic establishment.
8. The Mint Bar – Sheridan, Wyoming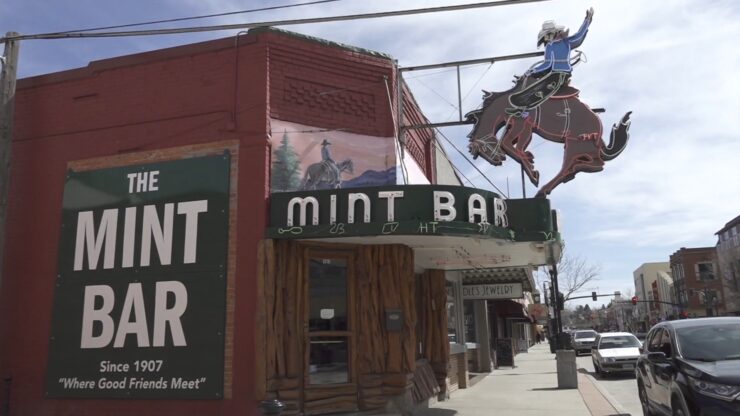 With a history dating back to 1907, the Mint Bar in Sheridan, Wyoming, has long been a staple of the Old West. Known for its vibrant neon sign and warm, inviting atmosphere, the Mint Bar was a favorite among cowboys, ranchers, and lawmen alike. The saloon's walls are adorned with impressive taxidermy and historic photographs, creating an authentic Old West ambiance. Today, the Mint Bar remains a popular spot for live music and cold drinks.
9. The Pioneer Saloon – Goodsprings, Nevada
Located just outside of Las Vegas, the Pioneer Saloon in Goodsprings, Nevada, has been welcoming patrons since 1913. The establishment's colorful history includes hosting the likes of Clark Gable and Carole Lombard, as well as being the site of several ghostly encounters. This place boasts original tin walls and a bullet-riddled bar, which contribute to its gritty charm. Enjoy a meal, a drink, and a dose of Old West history at this fascinating establishment.
10. The Red Dog Saloon – Juneau, Alaska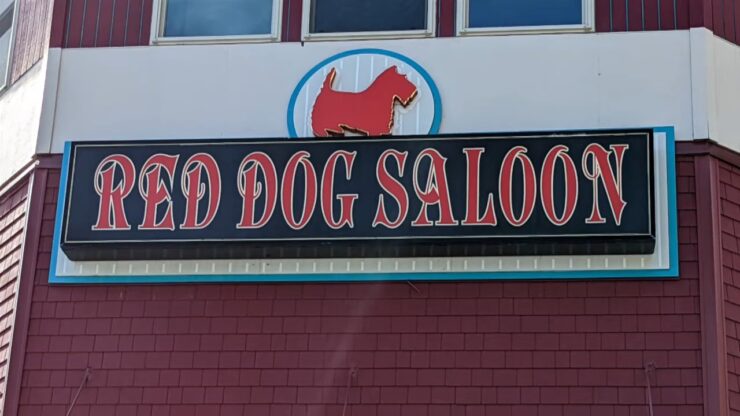 While not located in the contiguous United States, the Red Dog Saloon in Juneau, Alaska, is a true relic of the Old West. Established during the Klondike Gold Rush in the late 1800s, it has been serving gold miners, adventurers, and travelers for over a century. The place features swinging doors, sawdust-covered floors, and an impressive collection of Alaskan and Old West memorabilia. Take a step back in time and savor a taste of frontier life at this iconic establishment.
11. The Iron Door Saloon – Groveland, California
Established in 1852, the Iron Door Saloon in Groveland, California, claims to be the oldest continuously operating saloon in the state. Located near the entrance to Yosemite National Park, the locale has catered to gold miners, outlaws, and weary travelers for over a century. Its interior features an antique wooden bar, a collection of historic photographs, and an authentic Old West atmosphere. Stop by for a drink and a taste of California's Gold Rush history.
12. The Diamond Belle Saloon – Durango, Colorado
Situated in the historic Strater Hotel, the Diamond Belle Saloon in Durango, Colorado, has been serving patrons since 1887. Step back in time as you enter this beautifully preserved locale, which features a stunning mahogany bar, period chandeliers, and antique fixtures. Enjoy a cold drink and live ragtime piano music while surrounded by a delightful Old West ambiance.
13. The Sourdough Saloon – Beatty, Nevada
The Sourdough Saloon in Beatty, Nevada, is a must-visit destination for those traveling through the state's vast desert landscapes. Founded in 1905 during the Bullfrog Gold Rush, this establishment has remained a popular gathering spot for miners, prospectors, and travelers. With its rustic wooden bar and an extensive collection of historic photographs, this place provides an authentic Old West experience.
14. The Long Branch Saloon – Dodge City, Kansas
Reconstructed in 1941 on the site of the original saloon, this place is an essential stop on any Old West journey. The original locale was established in 1874 and was frequented by legendary figures such as Wyatt Earp and Bat Masterson. The saloon now operates as part of the Boot Hill Museum, where visitors can immerse themselves in the Old West atmosphere and enjoy live entertainment, including reenactments of historic gunfights.
15. The Golden Garter Saloon – Deadwood, South Dakota
Located in the heart of historic Deadwood, South Dakota, the Golden Garter Saloon has been entertaining patrons since the late 1800s. Its storied past includes visits from notorious characters such as Wild Bill Hickok and Calamity Jane. The locale boasts a beautifully restored interior, complete with a period-appropriate bar and antique fixtures. Visit for live music, cold drinks, and a trip back in time to the Wild West.
16. The Jersey Lilly – Ingomar, Montana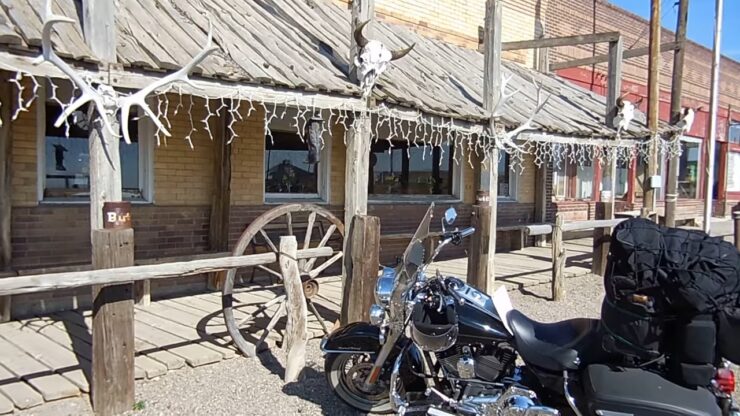 Established in 1914, the Jersey Lilly in Ingomar, Montana, is a remote but iconic Old West saloon. Named after the famous British actress Lillie Langtry, the Jersey Lilly has been a gathering place for cowboys, ranchers, and travelers for over a century. It features a simple wooden bar, historic photographs, and an authentic frontier atmosphere. Stop by for a drink and a taste of Montana's storied past.
17. The Spirit Room – Jerome, Arizona
Nestled in the historic ghost town of Jerome, Arizona, the Spirit Room has been serving patrons since 1898. The establishment is housed in the Connor Hotel, a former mining lodging that now operates as a boutique hotel. The Spirit Room features a beautiful antique bar, vintage fixtures, and an extensive collection of memorabilia. Enjoy live music and drinks while soaking in the locale's spirited atmosphere.
Discover the captivating story behind Whiskey Hill, an intriguing tale of brick and fire, as you delve into our article.
Final Words
From the deserts of Arizona to the mountains of Colorado, these 17 establishments offer a unique and immersive experience for history enthusiasts and casual tourists alike. As you visit these storied establishments, you'll be transported back to a time of lawlessness, adventure, and legendary characters. So saddle up, grab a drink, and let the spirit of the Old West envelop you as you explore these fascinating saloons.